Vivekananda Institute of Languages,
          Ramakrishna Math, Hyderabad.
---
Postal Address Update
Continuing students are requested to update their current postal address in the link given below to post the material by 1st October 2023.
Note: This link is only for the respective languages and levels given in the table.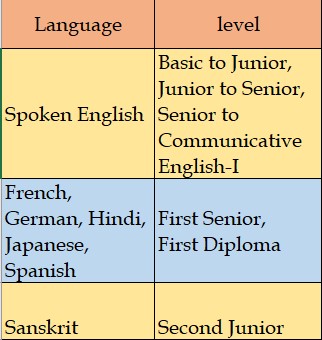 ---

Admissions for the September 2023 batch are Closed.
Next Admissions will be in the month of December 2023.
---
The First Class For
MWF (Monday, Wednesday, Friday) batch is on 20th September 2023.
TTS (Tuesday, Thursday, Saturday) batch is on 21st September 2023. 
Weekend (Saturday, Sunday) batch is on 23rd September 2023.
---
Login Credentials
The continuing students must use the same login credentials (which they used in their earlier level)
Incase you have forgotten your login credentials.
Or
Mobile Contact : 9603578545 / 040-27635545
---
Please go through our website regularly for updates.

                                                                                                                 Director