Personality Development Course:
Personality is not just a physical appearance but it is an all-round development of a human being in all aspects of life.
Total personality includes physical, mental, emotional, intellectual and spiritual dimensions of an individual.
To help our youth and the general public to develop all these vital aspects, the Institute is conducting Personality Development course for nearly three months on every Sunday in the morning and the evening,
wherein Yogasanas and meditation are taught and inspiring talks on relevant subjects are arranged.Student will be trained in.
Message of Swami Vivekananda to Youth
Management Skills
Self Confidence: Key to Success
Secret of Work
Becoming Better
Cultural Values for Students
Power of Positive Thinking & How to Develop Will power?
Recommended for further reading
Swami Vivekananda,Personality Development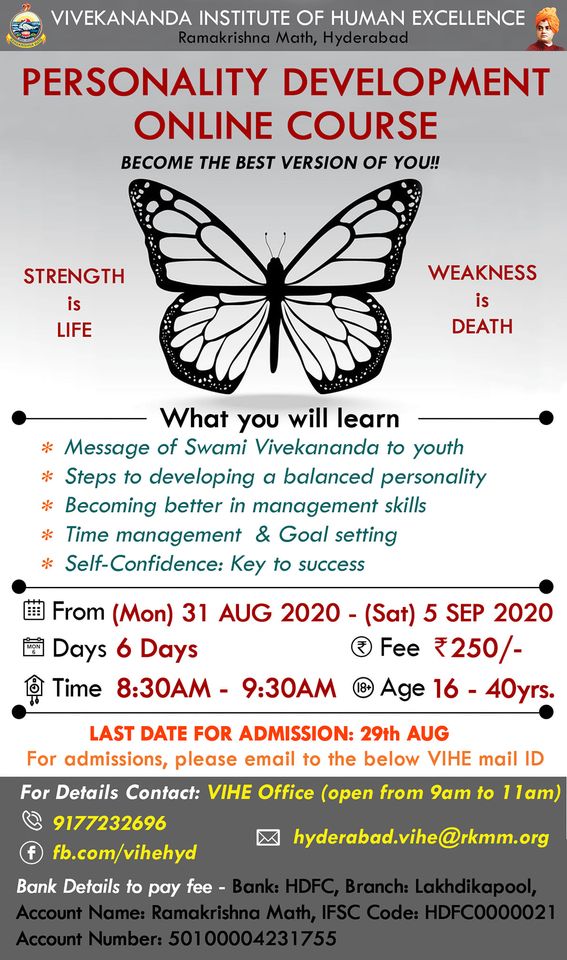 Steps to Build  Self-Confidence:
Swami Vivekananda said, "All power is within you, you can do anything and everything". Why we are not able to manifest that power is due to lack of self-confidence.
Self-confidence alone can lead us to success in what ever field we work for development.
This course was started in order to build confidence in the youth and others through great treasures of development skills we possess.
The response for this course is splendid.
Relevance of Vivekananda's Message to the Youth Leadership qualities
Effective Management
Inter Human Relations
Value of Time
Responsible citizens for better society
Know your culture
Thought power: A guiding force for betterment
Recommended for further reading